Leading Stainless Steel Sheets Supplier In India
Ashwin Impex's extensive variety of product offerings consists of pipes, tubes, pipe fittings, sheets, plates, coils, round bars, rods, fasteners, and flanges which are shipped all across the globe successfully serving the requirements of numerous commercial and industrial sectors....
More than that, our entire product category and all our offerings are thoroughly tested at our highly equipped laboratories for optimal performance and excellent efficiency. Additionally, our products outperform quality standards when compared to other products available in the market by providing precise measurements and suitable mechanical properties at an attractive price.
The durability and quality of sheets are tested by multiple types of standard testing techniques such as flaring test, third party inspection, flattening test, PMI test. Only after going through a thorough inspection, the industrial products are packed by the SS sheets suppliers in the high-quality packaging material and delivered to the customer.
Being one of the most reputable stainless steel sheets suppliers, we deliver our products in India as well as across the globe including in the middle-eastern countries such as Saudi Arabia, certain parts of Europe such as Italy.
Features & Specifications Of Stainless Steel Sheets
The appropriate mechanical properties of the stainless steel sheets enhance the workability factor that includes stamping, welding, machining, and fabricating work. Our smooth surface finish of stainless steel sheets makes it a suitable product for industrial purposes which can also be cleaned and sterilized periodically. A few robust specifications offered by the stainless steel sheets supplier include varying ductility, strength, and hardness, as well as resistance to temperature, and response to magnetic effects. There are certain dominant characteristics of stainless steel sheets such as enhanced cryogenic toughness, and higher impact resistance with strong resistance to corrosion.
The density of stainless steel is 8.0 g/ cm3, and the melting point is 1400 degrees Celsius or 2550 degrees Fahrenheit. The tensile strength of stainless steel is 515 MPa or 75000 Psi, and the yield strength at 0.2% offset is 30000 Psi or 205 MPa with an elongation of 35%. The thickness of stainless steel ranges from 4 mm to 100 mm, the length varies from 2000 mm to 5800 mm, and the Length Width varies from 1000 mm to 3500 mm respectively.
Industrial Applications Of SS Sheets
Stainless steel sheets are recyclable material that can also be easily sterilized as well as poses strong resistance to corrosion and rusting properties. This is the reason why its application can be found in numerous industries. The industry array includes Aerospace industries, chemical processing industries, petrochemical (oil refinery) industries, architectural construction industries, power generation industries, paper-based products industries, transportation equipment industries, seawater equipment industries, and many others.
In the automotive industry, the SS sheets application consists of automobile wheel covers, automotive exhaust systems, heat exchangers, and several other parts. SS sheets are also extensively used for mild corrosive services, electrical cabinetry, and electrical transformers. Fractionation towers, flue liners, ASTM A240 hose clamps, coal handling equipment, housing materials, furnace liners, conveyors, and industrial Gas processing units are a few other places where applications of SS sheets can be found.
Types Of SS Sheets We Provide
The stainless steel sheets can be found in various dimensions, qualities, and compositions. The sustained durability of stainless steel with additive properties such as shiny surface and light-weight makes it an ideal choice for rolls, sheets, strips, plates, and coils. As stainless steel sheets supplier, Ashwin Impex offers A240 series consisting of an A240 plate, A240 sheet, A240 circle, A240 coils, A240 embossed plate, A240 rose gold sheet, ASTM A240 foils, and shims.
The SS sheets supplier's product array also includes multiple types of plates such as decorative sheet plate, chequered plate, polished plates, as well as various types of rolled plates such as Plate coil, rolled plate, hot rolled plates, and SS sheets such as hairline finish sheet, mirror finish sheet, glossy finish sheets, designer sheet, and shim sheet.
There are numerous variations of stainless steel available in the market whose applications may range from producing wire baskets to heat exchangers. Each variation of stainless steel poses its own unique mechanical properties and picking up the right one for your product from a reputable SS sheets supplier becomes convenient if graded properly based on global standards.
The standard grading system constitutes the stainless steel grade series of 200 which consists of 202/201, the grade series of 300 which consists of 304, 304L, 310/ 310S, 316/ 316L/316Ti, and 347/ 347H, the grade series of 400 which consists of 409/409L/409M, 410, 420, 430, 441, and 446, as well as the grade series of 900 which consists of 904L.
Why Choose Us?
As a stainless steel sheets supplier & exporter, Ashwin Impex is an ISO 9001:2015 certified company with decades of experience in the metal industry. With the help of advanced technical knowledge and expertise, we have successfully acquired the reputation of one of the most reliable ss sheets suppliers in India and all over the world.
Stainless Steel Sheets & Plates
Carbon Steel Sheets & Plates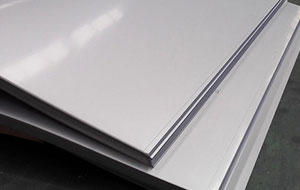 Duplex Steel Sheets & Plates
Other Sheets & Plates
Inconel Sheets & Plates