Stainless Steel Pipe Fittings Manufacturer & Supplier In India
Ashwin Impex is an ISO 9001:2015 certified SS, MS, aluminium fittings manufacturer and supplier in Mumbai. We provide a comprehensive range of high-quality elbow, tee, reducers, coupling, cross, stub end, pipe end cap, pipe bend, and all other ranges of pipe fittings for commercial and industrial purposes. ...
Our products are available in diverse shapes, materials, dimensions, and standards. At Ashwin Impex, we employ state-of-the-art manufacturing facilities and utilize the finest quality raw material to deliver valuable products to our customers all over the world.
All of our pipe fittings products are in accordance with international quality standards and are stringently tested prior to shipping. Over the years, we have become one of the leading stainless steel pipe fittings suppliers for most industrial customers all over the globe - because of our versatile and corrosion-resistant product.
Stainless Steel Pipe Fittings: Specification
The products offered by stainless steel pipe fittings manufacturers exert superior mechanical, thermodynamic, and electromagnetic properties. Such excellent material properties make the pipe fitting suitable for harsher working conditions. In addition, the industrial pipe fittings manufactured by us can withstand exposure to corrosive environments and mediums such as liquid and gases at varying temperatures and pressure in different industrial settings.
As SS pipe fittings manufacturers, our products have excellent resistance to corrosion, fine surface finish quality, and formability - due to the underlying material composition that comprises molybdenum-added austenitic nickel-chromium. Additionally, stainless steel pipe fitting products have better performance, low maintenance, and longer services life.
For instance, one of the highly demanded products offered by aluminium fittings manufacturers are produced using grade 316 or grade 316L stainless steel. The fittings can handle maximum pressure of 3000 psi at an elevated temperature of around 100 Degrees Fahrenheit.
Stainless steel pipe fittings: Application
The pipe products manufactured by leading MS pipe fittings manufacturers can be used in high-pressure industrial applications.
The prominent application of MS, SS, and aluminium pipe fittings can be found in varied industries ranging from the power generation industry, textile machinery, petrochemicals plants, pharmaceutical, automobile manufacturing industry, construction sector, industrial machinery, food processing facilities to fertilizers plants.
In large-scale commercial applications, the thickness of the wall of the pipe fittings products tends to vary with the number of pipes.
Types Of Stainless Steel Pipe Fittings We Offer
stainless steel 304 pipe fittings
stainless steel 304L pipe fittings
stainless steel 316/ 316L/ 316Ti pipe fittings
stainless steel 310/ 310S pipe fittings
stainless steel 317/ 317L pipe fittings
stainless steel 347/ 347H pipe fittings
stainless steel 904L pipe fittings
Stainless Steel Pipe Fittings: Benefits
One of the major benefits of pipe products manufactured by MS pipe fittings manufacturers is structural uniformity and better weldability. While under production, the bevels and lands are machined to provide good welding, plus, accurate dimensions are maintained throughout the product for unrestricted fluid flow (when in use).
Moreover, the pipe fitting products provided by Ashwin Impex, the leading SS pipe fittings manufacturer deliver maximum strength which is the byproduct of wall thickness uniformity.
We also provide high-quality stainless steel plates, stainless steel sheets, stainless steel pipes, etc. that have successfully cleared the standard, stringent quality test.
Inconel Pipe Fittings
Alloy Steel Pipe Fittings
Hastelloy Pipe Fittings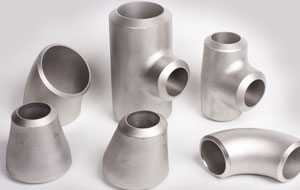 Duplex Steel Pipe Fittings
Other Pipe Fittings